4. Getting Started & Basic Features
4.2. Basic Features
4.2.1 myHome
Buttons [2005+] interface
|
Classic [pre-2005] interface
---
When you have logged in, you will see the SPIDER home page. This gives you access to most of the main features of SPIDER


1. Help pages


2. Tools, classes and info


3. discussion & 4. myNews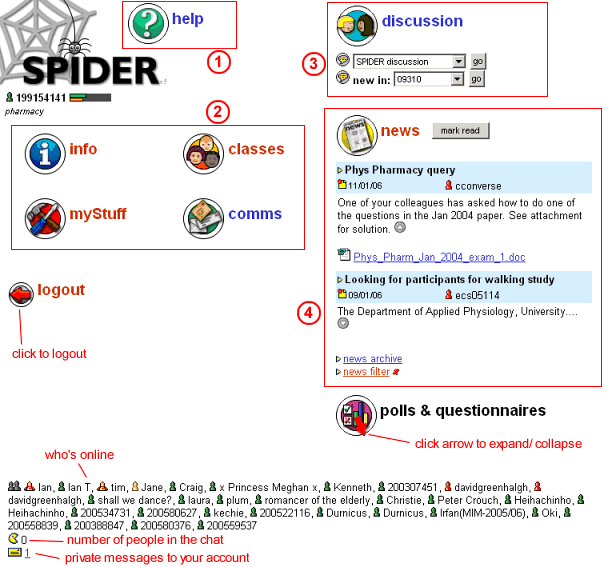 Help
The help pages give access to the quick start guides, FAQs and site help documentation, as well as training guides in acrobat pdf format.
Tools, classes and info
This section gives you access to the majority of the features of SPIDER:
Info - contains links to "cluster files" (non-class files e.g course handbooks), whats new, links, department, Staff-student committee and other useful information
classes - gives you access to your classes and their associated material (notes, slides, quizzes etc)
myStuff - student "toolbox" contains links to change your account details and preferences (mySettings), access to results (exam, quizzes), filespace and other useful tools
comms - communication tools such as links to the chat and discussions, news and messaging
Discussion
The discussion boards allow you to read and post messages in a variety of forums. Each class has a discussion, and there are year, general, technical, for-sale and wanted discussions. You can change the boards that appear in the "new in" list by editing your discussion filter via mySettings
News
The news section is where messages from staff appear. This will include important information about classes, lectures, exams as well as general information about events, changes to SPIDER and other useful messages. When you first login, you will see all the news for your cluster. You should click on the "news filter" link to set up your news filter. This will allow you to determine which news appears on the home page - you can select only news which is relevant to your current year and classes. The news archive link lets you browse old news. You can browse old news with your news filter off if you want to see all the news items on your cluster.
---
When you have logged in to SPIDER you arrive at the home page. The home page is divided into 3 main areas:


1. Standard & User tools [1,2]


2. myClasses and myLinks [3,4]


3. discussion quicklinks and myNews [5,6]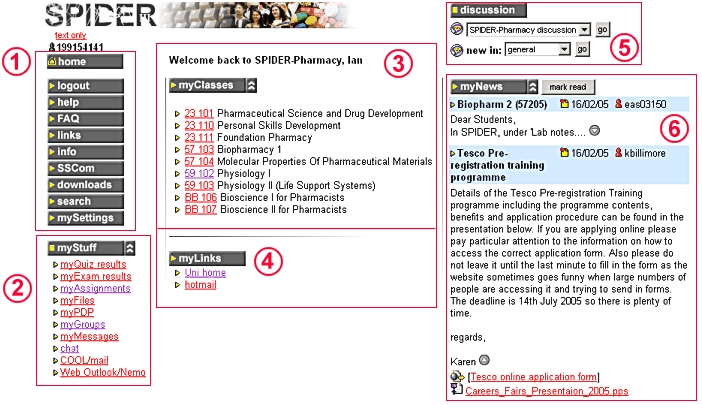 Standard & user tools
The left hand part of the home page is where you find the standard tools (item 1 in image) which lets you logout, link to the help pages, access general links, site info and change your preferences and SPIDER password via the mySettings page. Below these are the user tools (2) - either myStuff for student users or staff tools for staff users.
myClasses and myLinks
The middle section is where the myClasses (3) and myLinks (4) items appear. Clicking on the myClasses button takes you to the myClasses page where you can search for and select which classes you want to appear in your myClasses list. The myClasses list is used to show a series of links on your home page that link to each class' resource page. Class resource pages contain links to all the content relating to a class - lecture notes, slides, exercises, quizzes etc. The myLinks button allows you to set hyperlinks to your own favourite web sites.
Discussion and News
The third section of the home page contains quick links to SPIDER discussions. The first list contains the site discussions (general, year 1, year 2...) plus the discussions for the classes that you have selected in myClasses. Below this the "new in" lists discussions that have had postings since you last hit "mark discussions read" in the discussion boards. You can filter the "new in" list using your discussion filter, which you can set either via the link in the mySettings page or by clicking on the discussion button.
Below the discussion section is the news. You can choose to only see news relating to certain classes or year groups by clicking the myNews button and setting your news filter to match the classes/ year groupings that you want to see news postings for