Overall Project Portfolio
CMAC's focus will be to deliver novel manufacturing technology that will enable industry to deliver better products, quickly, economically and sustainably. This will meet the demand for reduced development time and costs and to exploit emerging opportunities driven by the urgent needs of patients and consumers for more personalised product performance. The ambitious Hub Programme meets future needs of industry, consumers and patients by developing state-of-the-art design and modelling methodologies and integrated, efficient production & supply chain systems. This will enable fast development of customisable pharmaceutical and chemical products so they can be manufactured and supplied with consistent quality and controllable performance. The research programme will deliver integrated, fast, multi-technique assessments to define material-process-performance relationships with novel computer-aided design tools. The interdisciplinary cross-sector partnership will overcome key physical science, engineering and technology challenges for chemical solids manufacturing, to enable fast and reliable development of new flexible, intensive and sustainable manufacturing processes based on continuous manufacturing to meet the needs of industry, consumers and patients.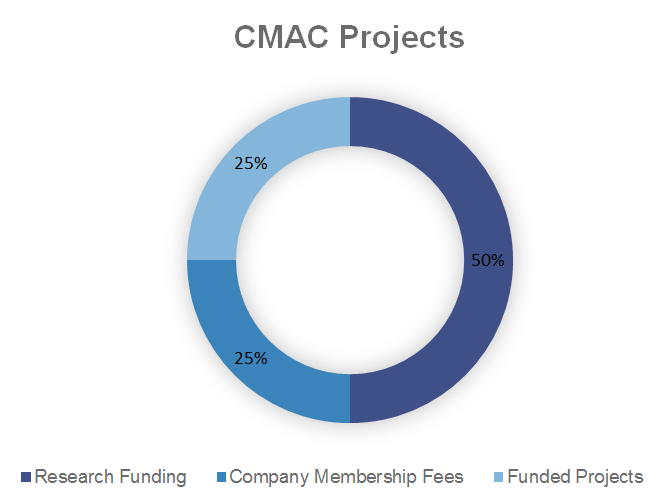 The entire CMAC research portfolio is made up of over 80 projects. The projects are supported as shown in the diagram above. The research funding currently includes EPSRC, EU and AMSCI projects. The CMAC Future Manufacturing Research Hub Programme is at the Hub of the CMAC Portfolio. Our Tier 1 partner companies support pre-competitive research through the CMAC membership structure and also collaborate with us on proprietary projects on a case by case basis.