Staff users can post news items on the site, which appears to users on the SPIDER home page. This news can be targetted to all users or to groups of users, such as "all 1st year" or to a certain class. By default you will see all news items, but you can change this to filter out news which you dont need to see. To set up your news filter:
Click the myNews icon on the home page
This will take you to a page that lists all the class codes and all the year groups on your cluster
To set up your news filter, tick the boxes next to the class(es) and year(s) that you wish to see news for.
click the save button.
If there are classes that you want to see news for that are not on your cluster, use the "Limit list to classes from" to change the cluster. Repeat the above tick/save for any classes in these other clusters
It is strongly advised that you select all the classes you are attending as well as the year group you belong to to ensure you can see all the news relevant to you. Copies of news items may also be sent via email.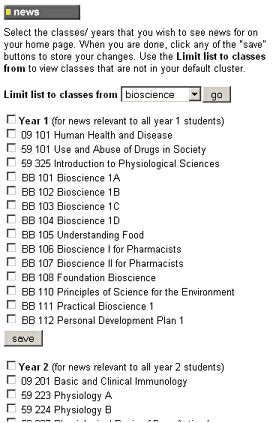 6.1.8 managing your news filter