---


Primary Processing Services
We offer crystallisation development services with platforms covering both batch and continuous methods e.g. cooling, anti-solvent,reactive and evaporative crystallisation.
Our largest laboratory in TIC houses 12 multi-functional walk-in fume cupboards. These bespoke units are highly reconfigurable to meet the needs of industrial research projects into both batch and continuous crystallisation processes. The fume hoods can be configured to accommodate a 3.8 m long process with pass through ports for PAT probes and fibres plus data communications to monitor processes in-line.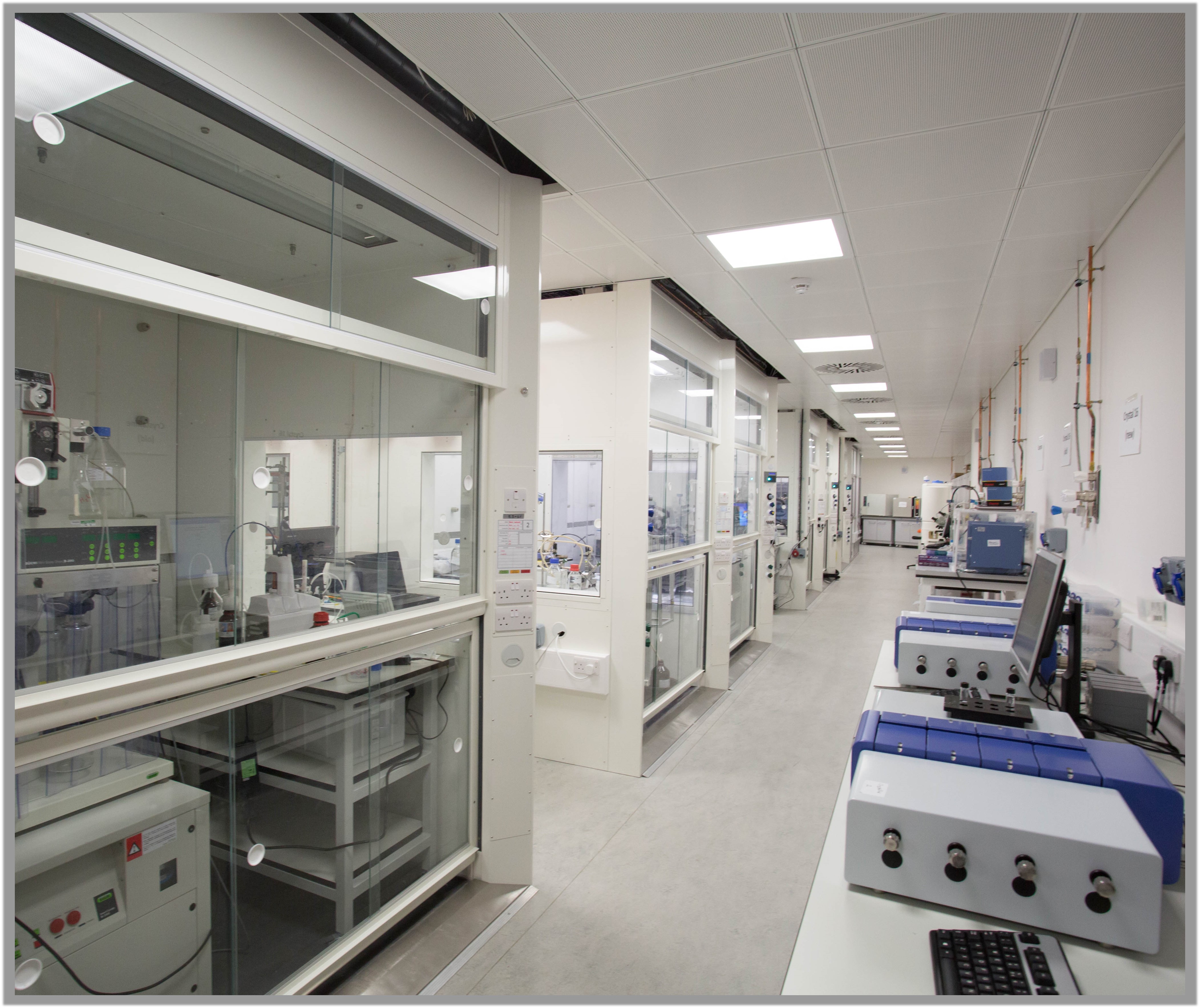 Primary Processing Equipment

Nucleation Platforms:

Valve Mixer
Modular MicroReaction System (MMRS)
Ehrfeld/BTS Impinging Jet Mixer
MicroInnova

Discovery Platforms:

OptiMax Synthesis Workstation (1 x 1 L), Mettler Toledo
EasyMax Synthesis Workstation (2 x 100 mL), Mettler Toledo
Crystalline (8 mL scale), Technobis
Crystal 16 (2 mL scale), Technobis
Zebra Fish & Polar Bear, Cambridge Reactor Design
NanoAssemblr, microfluidics manufacturing platform, Precision Nanosystems
Mitos Dropix, Advanced Droplet System Dolomite
Crystallisation Discovery Platform, Crissy XXL, Zinsser

Continuous Crystallisation Platforms:

Skid mounted modular continuous crystallisation platforms, MicroInnova
DN10, Continuous Crystalliser, Soham Glassware & Cambridge Reactor Design
DN15, Continuous Crystalliser, NiTech & Alconbury Weston Ltd.
Rattlesnake, Continuous Crystalliser, Cambridge Reactor Design
Stirred Tank Reactors, Radleys
Agitated Cell Reactor, CoFlore, AM Technology
Taylor Couette, Scott Glass

Filtration:
Continuous Carousel Filter Dryer, AWL
Rotary Drum, Continuous filtration, Cordell Group
Nutsche Filters, Powder Systems
Falcon Filtration Robot, Cambridge Reactor Design

Ancillaries:
Rotor-Stator
IKA, Magic Lab
Flow Cells
Heater/Chillers
Incubators
Pumps various
Mass Flow Meters & Controllers
Ultrasonic Baths
Stirrer/Hot Plates.
---
Work with us
Contact the CMAC Team with your enquires
+44 (0) 141 444 7102